Dental Exams, Cleanings and Fillings
---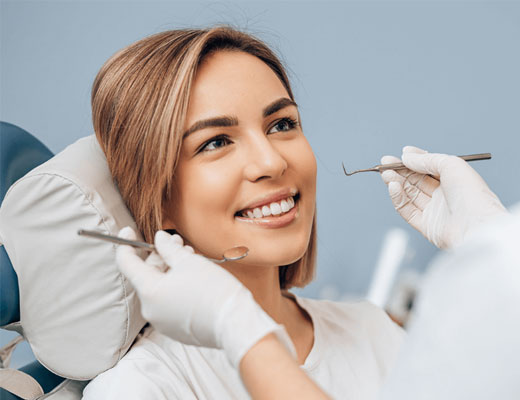 Regular dental exams and cleanings are essential for maintaining good oral health. During these appointments, your dentist will examine your teeth and gums, clean your teeth, and check for any signs of decay or other dental issues. Your dentist may recommend fillings to restore the affected teeth if problems are found.
The adept team at James W. Thomas DDS, Inc, proudly serves the local community with premium dental services, screening and detecting potential concerns before they become intractable problems.
Dental Exams
During a dental exam, your dentist will comprehensively evaluate your oral health. This may include:
Checking your teeth for cavities or other signs of decay
Examining your gums for signs of gum disease
Assessing the alignment of your teeth and checking for any bite problems
Checking for any signs of oral cancer or other oral health issues
Your dentist may also take X-rays of your teeth and jaws to check for any underlying issues that may not be visible during a visual exam.
Dental Cleanings
After your exam, your dental hygienist will thoroughly clean your teeth and gums. This may include:
Removing any plaque or tartar buildup on your teeth and along the gum line
Polishing your teeth to remove surface stains
Flossing between your teeth to remove any remaining debris
Applying fluoride to help strengthen your teeth and protect against cavities
Regular dental cleanings can help prevent cavities, gum disease, and other dental issues.
Fillings
If your dentist finds any signs of decay during your exam, they may recommend fillings to restore the affected teeth. Fillers are typically made of composite resin or amalgam and are used to fill in areas of the tooth damaged by decay.
During a filling procedure, your dentist will numb the affected area of your mouth using a local anesthetic. They will then remove the decayed portion of the tooth and fill the room with the filling material. The filling will then be shaped and polished to match the natural contour of your tooth.
Your Local Dental Care Expert
Regular dental exams, cleanings, and fillings are essential for good oral health. By taking care of your teeth and gums and promptly addressing any dental issues, you can help prevent more serious dental problems from developing. If you're due for a dental exam or cleaning, or if you think you may need a filling, be sure to schedule an appointment with your dentist as soon as possible.
During your appointment with the knowledgeable team at James W. Thomas DDS, Inc, you can rest assured that you will receive the best care and guidance you and your family deserve.