Crowns, Bridges and Root Canals
---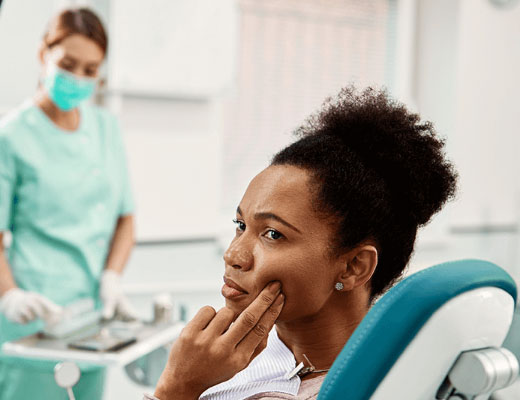 Crowns, bridges, and root canals are all part of a branch known as restorative dentistry. This aims at helping our patients re-affirm and strengthen the structural integrity of their mouths by saving as much of the original tooth, bone, and gum as possible. This is done with a patient and experienced hand while utilizing state-of-the-art equipment.
The knowledgeable team at James W. Thomas DDS, Inc, proudly serves the local community with premium dental services, including restorative and cosmetic enhancements to restore or repair any dental concern.
Crowns
A dental crown is a cap that covers the entire tooth above the gum line. Crowns are used to restore teeth that are severely decayed, cracked, or otherwise damaged. They can also strengthen a tooth after a root canal or hold a dental bridge in place.
What to Expect During a Crown Procedure
Getting a dental crown typically involves two appointments. During the first appointment, your dentist will prepare the tooth by removing any decay or damage and shaping it to fit the crown. They will then take impressions of your teeth to send them to a dental laboratory, where your crown will be custom-made. You may receive a temporary crown for wearing until your permanent one is ready.
Bridges
A dental bridge is a custom-made appliance that replaces one or more missing teeth. Bridges are typically made from porcelain, ceramic, or metal and are anchored by attaching to adjacent teeth or dental implants.
When is a Bridge Needed?
A dental bridge may be recommended in the following situations:
To restore functionality and improve chewing and speaking abilities
To prevent the remaining teeth from shifting out of place
To enhance the appearance of the smile
To preserve facial structure and prevent bone loss
Root Canals
A root canal is a procedure used to save a tooth that has become infected or inflamed in the pulp, which is the soft tissue inside the tooth. The process involves removing the infected or damaged pulp and replacing it with a filling material to prevent further infection.
When is a Root Canal Needed?
A root canal may be recommended in the following situations:
To treat a deep cavity that has reached the pulp of the tooth
To repair a cracked or broken tooth that has exposed the pulp
To treat an abscessed tooth
To prevent the need for tooth extraction
Your Quality Dental Professional
Crowns, bridges, and root canals are necessary restorative dental procedures that can help to preserve damaged or decayed teeth, improve oral health, and enhance appearance. During your appointment with the skilled team at James W. Thomas DDS, Inc, you can rest assured that you will receive the best care and guidance you and your family deserve.